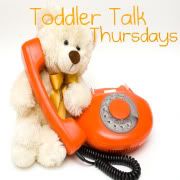 Hosted by
The Life of a Sippy Cup Mom
,
Family and Life in Las Vegas
, and
Crazy about my Baybah
.
This week's topic is :

Extended Family!
Tell us about your toddler's favorite extended family members!
A loves her family. All of her family. But of all the family members there are two that she asks for daily!
She starts the day, EVERY day, asking for her Nama and if she cant go over to house right away panic ensues. Lucky Nama is pretty accommodating and lives right next door. This is my Mother in Law and I adore this women.
Next is Uncle Billy. This is my youngest Brother. He just got back from a 2ish month cross country trip. I'm very happy he had fun but we all missed him. A especially. He bought her a sticker map that she would mark the states he was in at that time. He is going to make a great Daddy someday.